Professional Rust Removal Services
Wash Patrol is a pressure washing service company that specializes in rust removal services. We can successfully remove or reduce all rust stains from concrete and masonry surfaces. Rust stains can be very unsightly and make your property look and feel neglected. Wash Patrol uses its own line of Sgt. Sudds Resist-A-Rust which removes all types of rust stains without damaging or harming your property.
Resist-A-Rust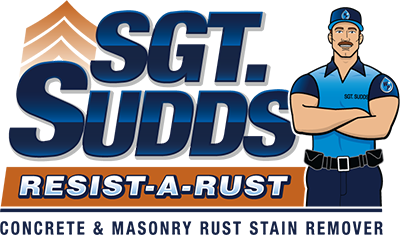 Sgt Sudds Resist-A-Rust is an amazing rust removal product that is eco-friendly!
Professional Rust Removal Company
Don't let rust damage and deface your property! Hire Wash Patrol to remove the rust from your concrete or masonry surfaces. We can also remove rust from stucco and exterior siding of your home. Rust is often caused from Sprinklers, Golf Carts, and Car Batteries. No matter how your rust ended up on your property, Wash Patrol is here to clean that rust off! We can successfully remove rust stains from the following:
Concrete
Masonry
Stucco
Siding
Bricks
Pavers
& More!